The Hub began with a fridge
Todd Moss bought a refrigerator in 2013. The yellow energy efficiency tag estimated the appliance would use 459 kWh per year, a tidbit of information that normally would have meant little. Except Todd had been working that morning with electricity consumption data and realized a big problem: his typical single-family American fridge would use more electricity than most people living in Africa use in a whole year. He created a simple graphic that went viral — and still resonates today.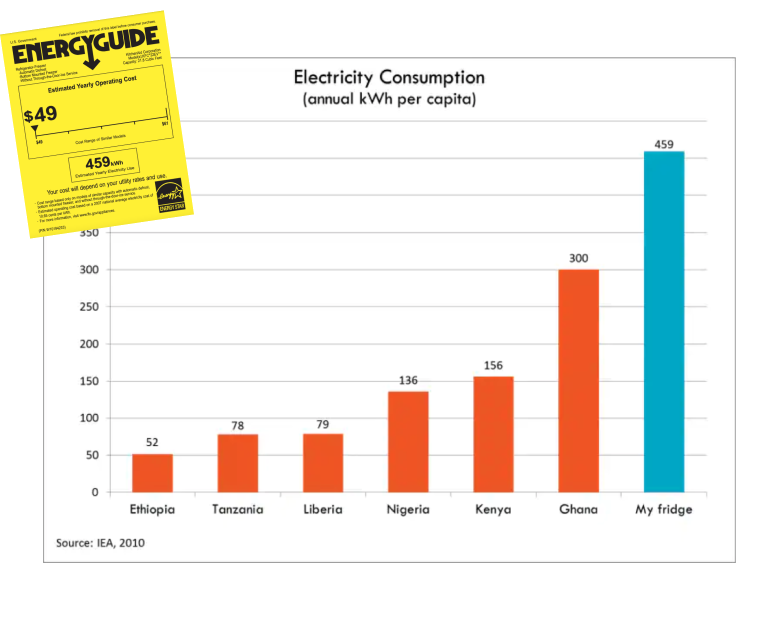 Several years earlier, Todd had been a senior US diplomat working with African leaders who told him again and again: they needed energy for their people. The data showed lack of energy was one of the biggest barriers to development, blocking progress towards better health, education, and decent jobs. This "energy poverty" was squandering the human potential of billions of people and leaving them unfairly vulnerable to the growing impacts of climate change. But US foreign policy tools to catalyze investment in energy infrastructure were frustratingly small and piecemeal.
Todd couldn't get the policy mismatch out of his head. When he returned to the Center for Global Development as COO and senior fellow, he started a new research program on energy poverty. The program shaped the US Power Africa initiative and created the blueprint for the US Development Finance Corporation. Two big gaps remained:
People need more than a lightbulb. Ambition and thinking in conventional development circles has been too small. The focus is often on providing lighting or basic household power instead of building energy systems to drive industrialization, job creation, and economic growth.
Policymakers aren't using available data and evidence to build faster and smarter. Energy and climate research is abundant but often too long, too full of jargon, and rarely tackles a specific policy priority. That's why so much of it sits on a shelf rather than helping solve problems that affect people's lives.
The Energy for Growth Hub was created to bridge both these gaps. The idea was first incubated inside CGD with support from the Rockefeller Foundation and shaped in the early days by many people, including Suman Sureshbabu, Ben Leo, Rose Mutiso, Rachel Pritzker, Morgan Bazilian, Kate Steel, Varun Sivaram, Vijay Modi, Karan Bhatia, and Johanna Nesseth-Tuttle. Todd, founding chair Sheila Herrling, first employee Jake Kincer, and a handful of colleagues formally launched the Hub as a separate nonprofit in 2018.